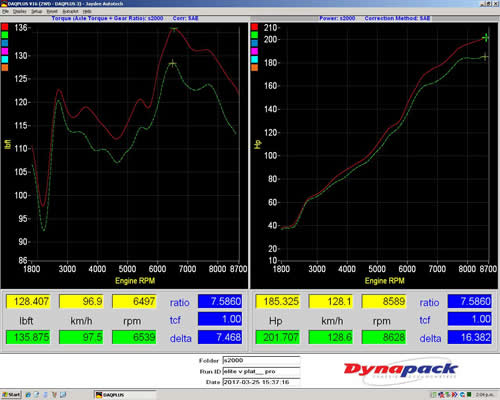 This is a Honda S2000 with a stock F20C motor fitted with a 3" exhaust. The customer brought his car to us to tune on this Haltech Platinum Plug & Play ECU. We quickly relised that the engine was knock limited on our fuel and this ECU's knock sensing was inadequate for his racing/road application placing his motor at risk. We fitted the advanced Haltech Elite 1500 ECU which features adaptive knock control. We made a custom S2000 patch harness and all standard S2000 features like air conditioning are maintained. We calibrated the knock frequency, window and thresholds for optimum safety and the ECU was programmed to create learned retard tables based on ethanol % (although this car runs on 98 at present.). The power gains were significant at the track as the ECU was never retarding timing which is the case with the stock ECU.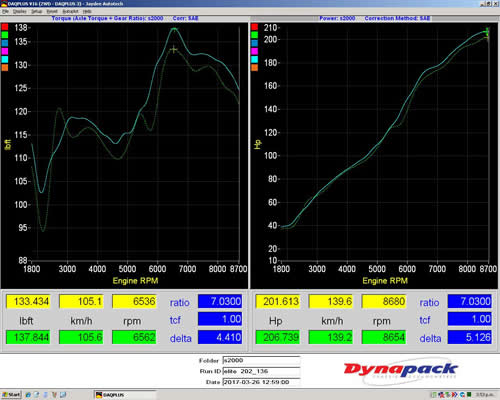 This is another S2000 with our Haltech Elite 1500 plug in adaptor harness. From memory this car has done 150K Klms which really shows the quality of Honda's F20C motor. Tuned on Aus 98 octane. (USA 93Octane)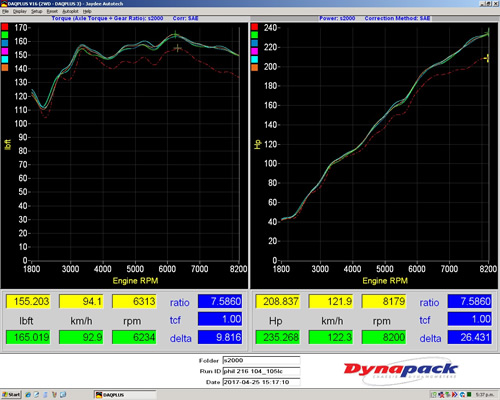 Above is a Honda S2000 with a F22C motor fitted with TODA cams, a 3" exhaust and cold air box. The customer upgraded to our Elite 1500 ECU conversion due to detonating his original F20C engine with the Platinum ECU. The initial 208.8WHP was after carefully tuning his motor on the Elite. I felt disappointed with this result as his motor was wanting to knock all the time. Speaking to the customer he gave me the go ahead to degree both cam lobe centers. It's a slow process as each adjustment required another full tune to evaluate the results. After a day and a bit on the dyno we got to 223.7Whp (see below). With wider lobe centers his engine was less knock sensitive but it still needed almost no advance to make power.
After discussions with the customer he decided to upgrade his injectors and move to flex fuel as the Haltech Elite 1500 supports E85 as a standard feature. We then retuning with larger injectors for 98 Octane, then tuning E15, E30, E40, E50, and E70. The result is below, 235Whp.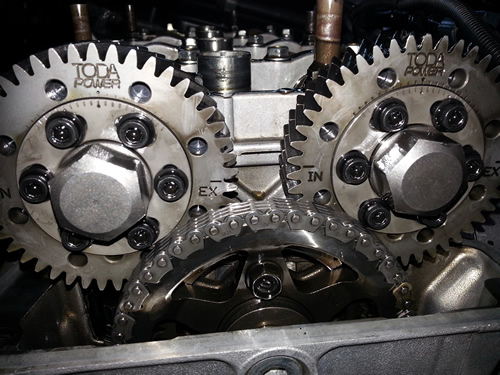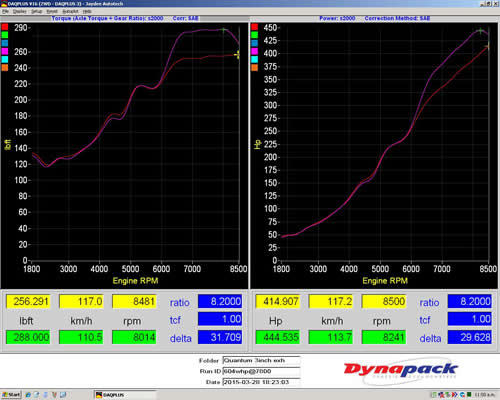 This customers S2000 with a stock F20C motor and a turbo kit fitted. Features a 3" exhaust, and full time E85 with a Hondata ECU.
His injectors were at 90% PW from 5800rpm so we had to tune the boost controller to reduce boost as the RPM climb so we didn't run lean. This tune was limited by the ECU and his injectors. The Hondata KPro S2000 knock sensing has issues and cannot be relied on so timing must be carefully and conservatively done by the tuner. All the temperature offsets need to be spot on. Fitting a Haltech Elite 1500 with bigger injectors would see another 100Whp with safety.
The 2 different curves are high a low boost switch. I also programmed boost by gear into the ECU.

Part of our tuning is to correctly balance the cylinders. This was done for both mixtures and timing on the F22C motor to achieve the 235Whp.
After we calibrated the knock frequency, knock window and knock thresholds for optimum safety the ECU was programmed to create learned retard tables based on ethanol %. In this datalog we tested this process by lowering our knock threshold. As a result the Elite ECU sees a knock, retards the timing by our set value and adds a retard ignition valve in a table. The amount of retard added in this table depends on the % that the threshold was exceeded. Next time the motor is at that load/rpm point and ethanol % these table values are subtracted from the ignition timing.
Brilliant Technology....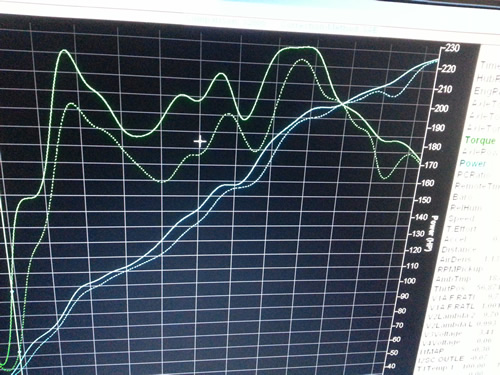 This photo was taken while degreeing the cams. Same peak HP but look at the amazing torque gain. The final result was an incredible 235Whp/ 165Ft/lbs and given that we started with about 195Whp the customer could not believe it.
Jaydee's S2000 plug in adaptor harness for the Haltech Elite 1500 ECU. This plugs straight into the Honda loom at the passengers foot well. It fits in the stock ECU position and drives the gauge cluster, air conditioning and stock features. In our loom we have added DTM connectors for the Elite 1500 ECU pins which are not used on a standard car. This makes it easy to add extra functions like our 2 and 3 axis accelerometer kits. Combined with the Haltech Datalog viewer software you can then review your cornering and acceleration G's from a drive or track outing.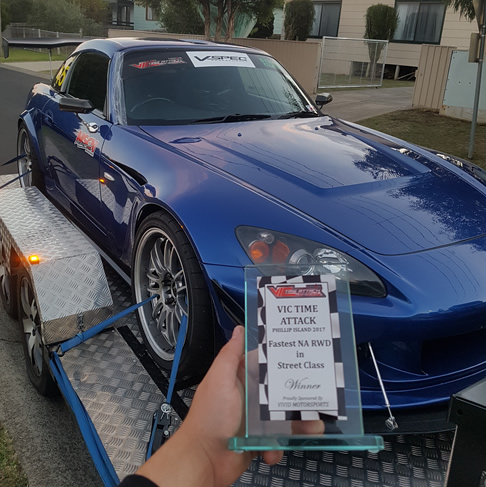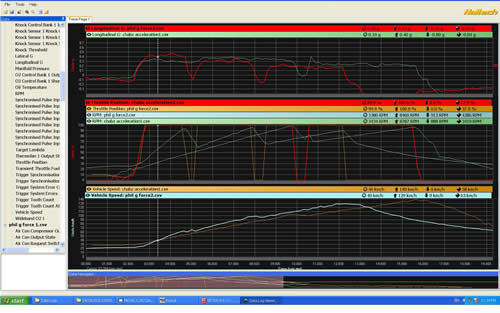 As a option for the Haltech Elite ECU's we have made custom +/-3G 2 or 3Axis accelerometers. Cornering +/-G Force, Acceleration G Force, Braking G forces can all be logged. This low cost unit has a short loom that plugs into the DTM connectors on our custom S2000 Haltech Elite 1500 Jaydee loom. The datalog above is a simple example of the accelerometers. Here the performance of two cars was logged and compared. The real advantages of this data are recording laps at the track or passes on a 1/4 mile pass and comparing to previous setups. Changes in your car's setup can be accurately and easily measured.
In addition we have made a custom Motec ADL3 harness which plugs into any Haltech Elite or Platinum CAN bus for professional data logging and analysis. This system combines all the Haltech engine data with GPS mapping, and a lab grade 3 axis accelerometer. Additional sensors like suspension position transducers are also available. This system will be covered on pages 2 & 3 of this site. Our equipment and analysis capability is available for hire for track days. The Motec ADL3 is fully optioned with Motec I2 Pro analysis giving the customer the same analysis capabilities as V8 Super car Teams. Once the data has been recorded you can spend days reviewing it, understanding, learning to improve both your car and driving capability.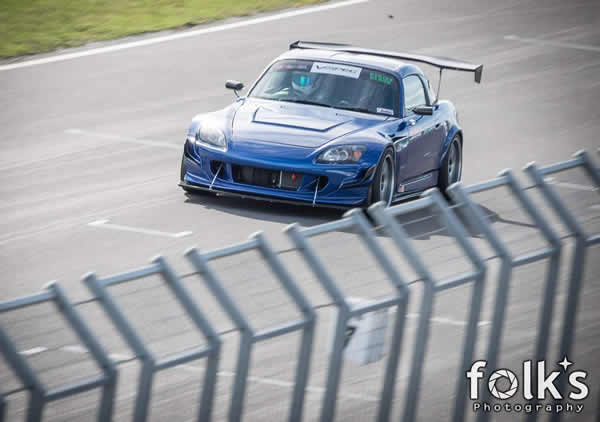 The first racing outing Vic Time Attack at Phillip Island for this S2000 with a Jaydee tuned Haltech Elite won the Street Class. Great result. Congratulations to the Owner.